"HELLO!" FROM HANNAH'S YARD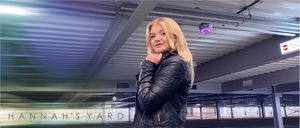 At the heart of the musical collective known as Hannah's Yard lies the voice of singer Hannah Layton Turner.
Supported by BBC Introducing and played on BBC Radio Two alongside numerous regional/independent radio stations, Hannah and her writer/producer partners Barnaby Pinny and James Reader released their debut album of original songs in 2017. Since 2019 they have been regularly releasing understated acoustic covers of well-known songs.
For the full story, click HERE!
December 2023 UPDATE...
We've been bunkered-down in the studio since 2019 in an attempt to get our music heard by more folk across the globe. It seems to be working…our Spotify Wrapped report for 2023 says that we've received 7.7M streams of our music on the platform this year - THANK YOU to all of you who have so kindly listened! 
Our latest (37th!) cover (released Friday 18 August 2023) is a calm, understated performance of the 1994 Grammy Award-winning hit 'I Swear' by US male group All-4-One…the song was requested by a couple of HY fans for their wedding this year and we were happy to oblige! 
Back in August, we were informed that our recordings of 'I Want To Know What Love Is', 'Sugar' and 'You Give Me Something' had all been featured in the Summer season of Love Island USA (Peacock, USA) and that we'd been added to Spotify's official Love Island USA playlist. 
Our second collaboration with Swedish duo Kaiak (released 12 May 2023) has already achieved over 240k streams on Spotify - a soft reworking of the Dolly Parton & Kenny Rodgers smash hit duet 'Islands In The Stream'. It seemed a timely moment to release another duet on seeing our first ('I Knew You Were Waiting For Me') cover pass 1M streams on Spotify! This went on to be featured in Love Island's Summer season on ITV2 here in the UK!
In other recent news, our cover of Lionel Richie's 'Stuck On You' was featured in the current Summer season (Series 10) of Love Island (ITV2, UK) following Maroon 5's 'Sugar', Ronan Keating's 'Life Is A Rollercoaster' and James Morrison's 'You Give Me Something' during the Winter season (Series 9). Foreigner's 'I Want To Know What Love Is' was featured in last year's Summer Season (Series 8). These songs have subsequently entered the top 100 of both the iTunes Chart and Shazam Chart ('Life Is A Rollercoaster' peaking at #59) and have been placed on over 10k Spotify playlists including their official 'Love Island' playlist!
We've now achieved over 25M global streams of our music across Spotify alone including over 4M streams of our cover of Foreigner's 'I Want To Know What Love Is' and 2M of Randy Newman's 'Feels Like Home'...alongside 1.5M streams of our original song 'You Worked It Out'.
Also in the news...over the past year or two, we've seen our acoustic cover of Take That's 'Back For Good' be sync'd to the end-credits of an episode of Hollyoaks (Channel 4) and Loose Women's Stacey Solomon use our cover of Randy Newman's classic 'Feels Like Home' on numerous Instagram posts about her family at home - thank you Stacey! We have also been featured in Spotify's 'Viral Top 50' in both France and the Netherlands...and our version of 'O Christmas Tree' was playlisted on Spotify's global 'Christmas Coffeehouse' playlist for 2022 and 2023.
Many more recordings are in preparation for release across 2024 and Hannah reports: "It's so nice to be bringing a fresh Hannah's Yard spin to the work of some of the great songwriters and recording artists!"